Old friend Bob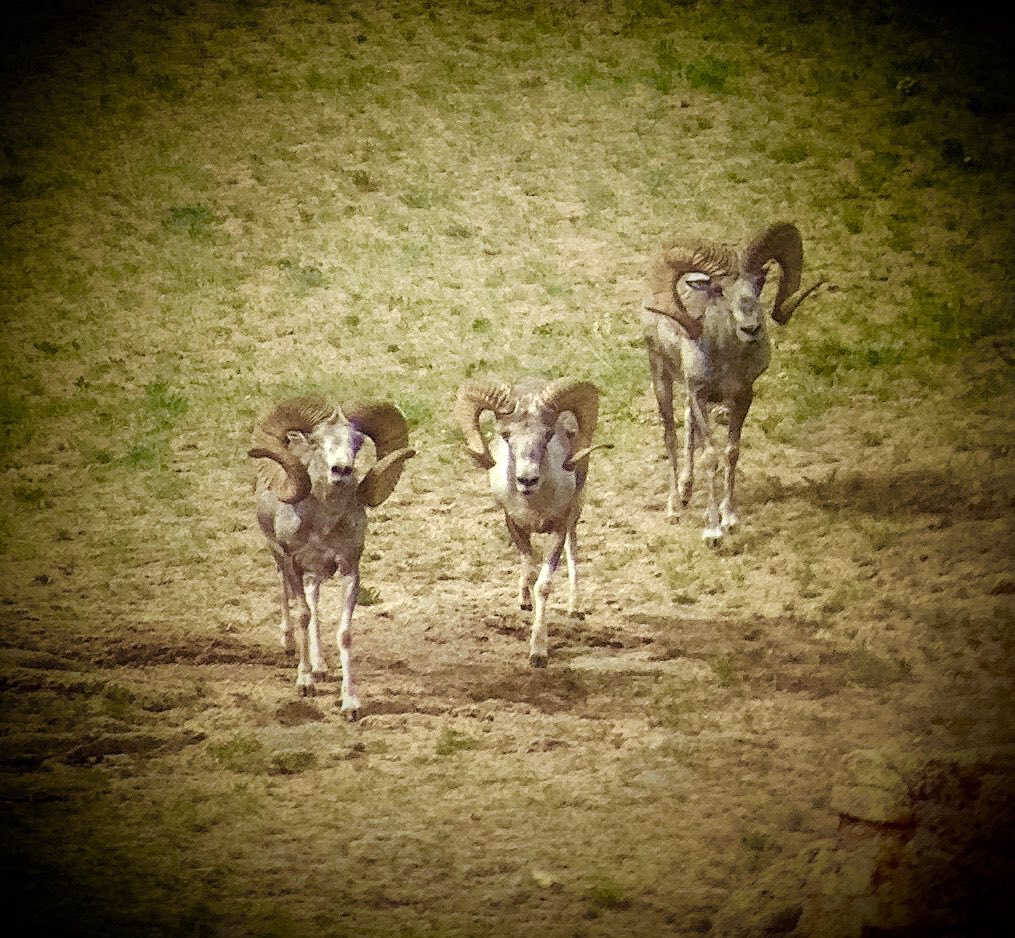 Mongolia is a country of 604,000 sq. m. territory (Alaska is 570,000 sq. m.) and is situated between China and Russia. It has a population of 2.7 million people with i million living in the capital city of Ulaanbaatar (UB). The Altay Mountain Range enters the far north western area of Mongolia from China to Russia, and runs southeast from the southwest border of Mongolia to the Gobi deserts of China. The peaks of the mountains reach 14,000 feet in the west and drop down to 7000-8000 feet in the Gobi. To the north and east of UB the hills are forested, with rivers and lakes, resemble the foothills of Montana or southern Alberta. In these hills roam Elk, Moose (small by North American standards), Roe deer, Boar, Brown Bear, Wolves and Capercaille.
The Hangay Argali camp is within the distance of 9-10 hours drive by jeep south-west of UB at the southern edge of the Hangay Mountains. Hangay Argali is intermediate in size between the Altay and the Gobi Argali sheep. The mountains are higher than the Gobi area but not as high as in the Altay Mountains. The Gobi desert is not one desert, but several hundred small deserts connected by old worn-down rounded mountains, which contain the sheep on the gentler slopes, and the ibex in the rougher areas. Be prepared for long and rough jeep rides as Mongolia is a rocky and rough country and no highways. You do not really want to consider any Mongolian "charter" aircraft, since there are no Cessna, Beavers, etc.
The hunted or pick-up horns of the Altay Argali have reached over 70 inches in length in the past They are in the museum of UB. A decent trophy of an Altay Argali would be so"-53.5" depending on the bases. Occasionally Dianna gives out a 60+ incher. Please remember that there are sheep with very heavy bases and horns of the low 5o's in length, which will score very well. A nice Gobi Argali would run over 40" and it is practical to hope for a Gobi sheep over 43"-44". It is also practical to hope for a 40+" North American thin-horn sheep. A good Hangay Argali would be from 44"-48" and bigger is certainly possible. With the Ibex, a reasonable expectation for the Altay's would be 38"-40" and the Gobi would be 34"-36". As of November 2003, three years of drought and poor vegetation have produced somewhat smaller animals.
Blacktail gazelle are available in the Gobi area and can be taken as an animal of opportunity, for an additional trophy fee. The whitetail gazelle is abundant in central and eastern Mongolia, but this will require additional travel time.
Once you pass through passport control and the Mongolian customs, you will generally be taken to a hotel for your first night in UB (enjoy the shower!). Next day, with your guide-interpreter, there will be a flight and /or a jeep ride to the hunting area. Usually you will stay in a "ger" which is felt and canvas-covered circular wooden frameworks with a small doorway (WATCH YOUR HEAD!) and with a carpeted wooden floor, cots, bedding, and a small stove, which are quite comfortable. Food is basic: meat, potatoes, onions, carrots, cucumbers, some canned vegetables and fruits, bread and butter, instant coffee, tea and bottled water (plain & flavored). Bring "coffee mate" whitener, as it's not available in the back country and the local milk might use up all your Pepto-Bismol. Maybe some "power bars" and peanut butter. Freeze dried food is ok, but not necessary. Common fare is beef, mutton, soup, rice, noodles, etc. These may however contain more fat than you are accustomed to.
The actual hunting consists of going out from the camp, by jeep or horses, early each day, spotting and walking, climbing and stalking. The jeep driver can negotiate some awesome places and is very capable. To obtain a driver's license in Mongolia requires a 3 month training course. They have to understand motor mechanics and be able to repair the jeep in the field (I don't believe there is a lot of emphasis on "rules of the road"). There will be local guides, who live in the area, and know the local game population. The hunter must, as in hunting anywhere, be knowledgeable about judging the trophy, and make the final decision on pulling the trigger. The capping of the hides and preparation of the horns will be done by the local hunter. I would emphasize the importance of the hunter's "helping out" at this stage, by showing an interest and understanding of skinning and fleshing out the critical areas of the eyes, ear, nose and horn bases. Salt for the capes will be provided.
If you decide to go, you should be planning on about 6 months lead time. For American hunters, for the Argalis, we have to acquire a US Fish &Wildlife Import Permit about 90+days ahead. We will help with the applications after we receive a deposit (refundable, if application denied). You will need a valid passport with 3-4 blank pages and expiry date good until at least 6 months after trip and 6-8 passport photos. Then comes airplane tickets, domestic and international. Chinese firearm/ammo permits (there is a $2000 fine if you arrive in Beijing without the firearm permits), double-entry visas for China (visa no longer required for Mongolia), airport meet and greet, firearms storage and hotel (tour of Great Wall, etc.?) in Beijing. It sounds complicated but it works, if we dot the "i"s and cross the "t"s. We are very fortunate to have good people & contacts in Beijing & Mongolia & in North America to help with all aspects of your trip. There are some nice wooden carvings and good woolens available in UB at reasonable prices. If you go into Mongolia understanding that these are really very decent people, raised in a different world than ours, and that running water is not quite the norm in the Gobi Desert; I know you will have a good time and a very special experience.
Be sure to register the firearm you are taking on your trip with CUSTOMS IN YOUR HOME COUNTRY and DEFINITELY carry the form they give you with you. US Customs will supply a card or form with your rifle info. In Canada, we are issued a "green card" by Canada Customs. You may require it on re-entry to your home country. When packing your bullets, they should be in manufacturer's original containers, in waterproof hard wooden or metal containers. I put mine, in manufacturer's box, into a Ziploc bag inside compact made-to-measure lightweight wooden boxes. Put them near the top of your duffel bags when you leave North America for China, where you can access them quickly, when you get to the airport in Beijing. You will be required to leave them in storage along with your rifle at the hands of the security people. Just put them into the gun case. They are okay there, also for the flight to/from Ulaanbaatar. Then back to the duffel bags for the return home to North America from China.
Nov. 2000- "a new twist"-the Customs and Agriculture people in Beijing have found another way to extract money - when the hunters return to Beijing from Mongolia, they must now leave their trophies in storage at the Beijing airport and cannot take them with them to the hotel in Beijing. There is a charge of $5.00 US. per PIECE per DAY. The staff of CWTS will assist the hunter here also.
I would suggest that the hunters could leave their horns in a separate bags and check them in for storage, and if there was a concern as to how to dry the capes and hides, the hunters might stick these in with his clothing, say nothing, and carry them to the hotel to salt & work on them for the last night before taking the flight back home. Obviously the most important thing is to have capes and hides dry for Customs and Veterinary Clearance in the home country.


EXTRA THOUGHTS ON YOUR TRIP TO CHINA and MONGOLIA (random)
Gifts for local people: There could be several people on staff in the camps and you may be visiting the local herdsmen in their homes. These visits sometimes are really quite important to determine the latest location of the game animals. Having the goodwill of the locals can be a big help in finding where the games are. When you arrive in UB, you might acquire a few bottles of vodka and 3-4 cartons of cigarettes (your decision!). The men in the camps will welcome cigarettes, chocolate bars, cigarette lighters and etc.
Tipping: You can certainly give out knives, sharpeners, binoculars, clothing and /or gear, but everyone, EVERYWHERE, likes money. I'm going to suggest the following (if someone is especially good, or association is longer, give extra).
| | Ibex or Elk hunts | Argali hunts |
| --- | --- | --- |
| Camp cook | $150 - $250 | $250 - $350 |
| Driver | $300 - $500 | $500 - $650 |
| Local Guides | $300 - $500 | $500 - $600 |
| Guide-interpreter from U.B | $400 - $600 | $600 - $800 |
There may also be helpers & horsemen & a camp manager around the camp. A non-hunter would pay a smaller tip to hunting guide-driver, and nothing to local guides, but maybe more to the interpreter from UB on trip, if that man proved to be a good & helpful companion. In communication, don't talk fast and use short sentences and simple words. Speak SLOWLY. The local people will all agree & smile, even if they don't know a word you said. No worn or torn $100 bills. In Asia, for some reason their banking system gives them a hard time about that You should only carry brand new bills (made since 2006) in the new styles and avoid any hassles.
Be patient, and do not insist on knowing every little detail while hunting. Even though you will have a guide/interpreter, realize there is still quite a language barrier, and hunting is not exactly "a do it by the numbers" thing. Trust your local guide and your guide/interpreter, as they are experienced and know the area. Allow them to organize and run the hunt, as it is their desire that you obtain good trophies, because that will make you happy and they should then get a tip. In this respect I must say, that is the hunter who pulls the trigger and it is the hunter's ultimate decision to do so. In my experience, very few of the guides understand trajectory and the hunter would double-check the guide's judgment as to distances or ranges to the target. One of the 600 or 800 yard rangefinders is now part of my standard equipment and I plan to carry it with me on every hunt Also, it is the hunter's ultimate decision as to the size of the animal, and if it will make a suitable trophy for him. Jack O'Connor used to say "if it doesn't look big, it isn't" As regards binoculars, I would recommend that you carry a second pair of binoculars, to be used by your guide. I recommend that you keep your own binoculars at all times for your personal use, supply a second set for the guide. When the hunt is finished, you can give them to the guide as part of a tip, or you can carry them home.
Be sure to take duct tape (rubber hose?) to cover ends of horns and/or for padding sharp points on skulls; also an empty extra large canvas football gear or trophy bag. Before you go, have good talk with your taxidermist and understand what measurements he needs on face, skull, neck, brisket etc., before field dressing.
Bring light weight raingear. There is no rain, but lots of wind. Goggles?? Don't put your garbage & Kleenex tissues, etc., into a herdsman's stove. Fire is very sacred and important to them.
The supply of goods in the stores in UB has changed drastically over the last few years and you can buy most ordinary requirements. Plan to buy nothing in the countryside. A basic Polaroid camera and lots of film will gain you instant popularity, especially in the back country. Take extra batteries for cameras, watch, alarm clock, flashlights, etc., and keep them from cold. I have photocopied my passport, birth certificate, social insurance, Visa credit card, drivers' license etc., and carry these along with some US 10/20/50 dollar bills, folded up very small in a leather belt with a pocket sewed onto the back, which I wear on my trips. I also carry a money belt under my shirt Try to get one without any metal, so it goes through the airport security quietly. In the field, I leave passport, tickets and etc., locked in my rifle case, if someone responsible can look after it while I'm hunting. Visa, Master Card & American Express travelers checks, etc., are Okay in Beijing, major Chinese cities and in UB. Personal checks are not accepted Take extra cash in U.S. Dollars (don't leave it laying around hotels, camps or anywhere). Declare it going into the customs in China.
Consult with your Doctor and/or local health dept, as to vaccinations (I have the usual D.P.T & Polio, plus Typhoid, & both Hepatitis A& B vaccinations), antibiotics, anti-inflammatory, eye care, etc. With the increase in air travel, and the antibiotic-resistant "bugs" now emerging, it is important to do what you can to protect yourself. Mind you, I don't want to sit at home in a bell jar, with filtered air, etc.! If you require any prescription medications, take double (triple?) quantity and divide them up (IN ORIGINAL PRESCRIPTION LABELLED CONTAINERS ONLY) and carry an adequate quantity for your whole trip, in each of your carry-on bag, and your gear bags. Ask your Pharmacist to not identify pain relievers with the words like "Acetaminophen & codeine 30 mg" but rather to use a brand name such as "Tylenol no, 3." You should consider carrying: antacids, something (capsules?) for constipation, diarrhea medication (prescription item like "Imodium?"). I like Pepto-Bismol liquid (plastic bottle). Personal hygiene toilettes, Band-Aids, moleskin, gauze tape small plastic bottle rub. Alc., cough & cold things, and cough candies for hunting. Also sunburn treatment, skin cream and insect repellent
Hunters should realize that if an animal is wounded and lost, the Mongolian Authorities regard the hunt as finished. Also wounding or killing females or young animals will be costly. Let the guide carry your packsack, and anything else, but be reluctant anyone carry your rifle depending on your situation.
Before leaving Mongolia, all hunters should have a Veterinary certificate and a copy of Hunting License. Argali hunters will require the proper CITES Export Permit and they will need to carry with them the original US Fish & Wildlife Import Permit 72 hour prior to your return, please arrange for someone to phone or fax or E-mail the US Fish & Wildlife Service office, in the city where you will be arriving, and advise them of your light schedule and that you will be carrying your trophies and have paperwork.
For Argali trophies, remember to have someone call or fax or E-mail the US Fish&WS 72 hours before you arrive in the U.S.A. Their representative will be there to meet you, at least in Los Angeles. It is not necessary to have someone expedite your trophies. You should be able to carry them right through, unlike African trophies. The numbers for USF&WS in Los Angeles are 310 328 1516 or 6307. Refer to your permit and info., from USF&WS for numbers for other cities. Try to avoid the Dept of Agriculture in Customs if possible (just act dumb). Concentrate on the USF&WS person and sort of act like they just need to look at your permit In other words say as little as possible. However, if the Agriculture personnel wish to inspect, they have that right If they find blood on your cape, they can hold it Do not insist on Agriculture looking at anything. For Argalis, you require a USF&WS Import Permit for all trophies. There is a slight possibility that the US Dept of Agriculture will quarantine your trophies. In the unlikely event that your trophies are kept in quarantine, you need to call Hunter Brokerage in San Francisco (Maria Europa at 650 652 0100), or Hahn Brokerage in L.A. (Mike Flaskerud 310 216 6691). They can have an agent come down to meet you and take over your trophies from there. They will send them to a Taxidermist or tannery which is licensed by the Dep. of Agriculture. If you have a problem with the Dept of Agriculture, do not panic. You may have to leave your trophies with them and go out of Customs before you can contact a brokerage. The Agriculture people will understand the problem and will know what to do. Also, it would be good for you to know the name, phone number and shipping address of the tannery used by your taxidermist.
The local custom in countryside is to pass around drinks. They include a fermented mare's milk (airag), a tea with milk or salt, vodka distilled from milk (probably 10-15% alcohol content). To be polite, you can just taste and pass back to the server or drink some if you wish. Generally, the people boil the water and pasteurize the milk, so anything offered to you should be okay. Milk intolerance could be a problem, if you have that. So please enjoy the culture. Do not compare to other places and expect the same treatment If you will go with the flow, listen and watch, after a week or so you will begin to understand This culture is unique, and you will come away a winner, with memories for a lifetime.
Reading materials on Mongolia: "Mongolian Hunter" by Pat Stewart of Alaska, which is very good. "Mongolia" by Lonely Planet is useful for a travel overview, if you can stomach their anti hunting bias. They also have some grand misconceptions about tipping. GOOD LUCK!